David Mellor: upcoming shows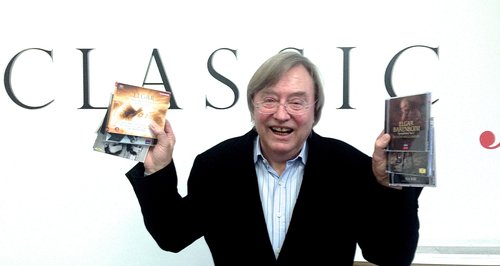 Sundays, 7-9pm. David is always delighted to receive your thoughts on the music he plays – especially if there's a theme you think would work well on a Sunday night. Let him know your thoughts via the form below or Tweet @ClassicFM, and listen this Sunday evening for a wonderfully indulgent and enjoyable two-hour journey of discovery on Classic FM.
You can listen to last week's show on our Classic FM Radio Player, or go to the Classic FM Playlist for a list of the pieces played in each programme.
Sunday 25th June, 7pm
This week, David will be shining the spotlight on the beautiful – but often rarely-heard – choral music of Sir Edward Elgar. The legendary Daniel Barenboim has just released a brand new recording with Staatskapelle Berlin of Elgar's The Dream of Gerontius; we'll hear selections from it tonight.
Sunday 2nd July, 7pm
After the recent deaths of the esteemed conductors Jeffrey Tate and Jiří Bělohlávek, David will look back at their long and very successful careers.
He will play the critically acclaimed recordings of Jiří Bělohlávek conducting the music of Dvorak and Martinu, plus there will be performances from the English Chamber Orchestra playing the music of Haydn, under the baton of Jeffrey Tate.
Sunday 9th July, 7pm
This week, David commemorates the famous composer Enrique Granados – born 150 years ago this month – with an evening dedicated to the music of Spain. Manuel de Falla and Isaac Albeniz also feature, as David showcases an evening of sultry music from Europe's wonderful Iberian Peninsula.