David Mellor: upcoming shows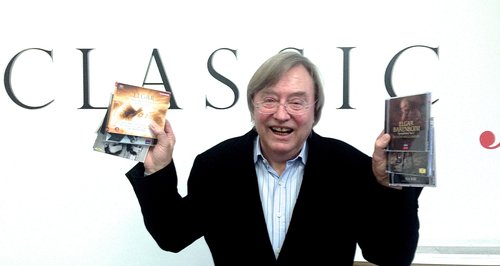 Sundays, 7-9pm. David is always delighted to receive your thoughts on the music he plays – especially if there's a theme you think would work well on a Sunday night. Let him know your thoughts via the form below or Tweet @ClassicFM, and listen this Sunday evening for a wonderfully indulgent and enjoyable two-hour journey of discovery on Classic FM.
You can listen to last week's show on our Classic FM Radio Player, or go to the Classic FM Playlist for a list of the pieces played in each programme.
Sunday 30th April, 7pm
Tonight, David profiles some of the finest new classical releases to have hit the shelves over the last weeks. The highlights include the violinist Daniel Hope's latest album For Seasons, and a fantastic new take on the marches of John Philip Sousa.
Sunday 7th May, 7pm
Tonight, David Mellor celebrates the recent 70th birthday of legendary pianist Murray Perahia. We'll hear iconic recordings from his acclaimed career with some of the world's greatest orchestras, along with a stunning solo example of his mastery at the keyboard.
And to celebrate film composer John Williams having ten entries in this year's Classic FM Hall of Fame – seven of them being at their highest ever position – David will be playing a selection of the movie maestro's music.
Sunday 14th May, 7pm
Tonight, David showcases a brand-new box set featuring Classic FM's Orchestra in the Midlands, the CBSO, under conductor Louis Fremaux, who sadly passed away at the beginning of April.
We'll hear the partnership in exuberant recordings, including Faure's Cantique de Jean Racine, Saint-Saens' Organ Symphony, and The Sorcerer's Apprentice by Dukas.
How to Listen
This week on Classic FM