David Mellor: upcoming shows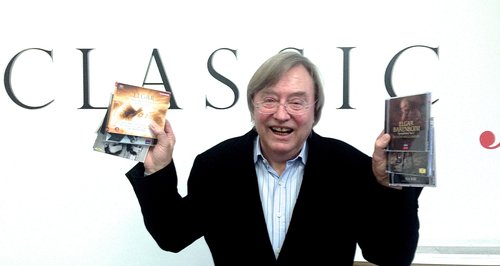 Sundays, 7-9pm. David is always delighted to receive your thoughts on the music he plays – especially if there's a theme you think would work well on a Sunday night. Let him know your thoughts via the form below or Tweet @ClassicFM, and listen this Sunday evening for a wonderfully indulgent and enjoyable two-hour journey of discovery on Classic FM.
You can listen to last week's show on our Classic FM Radio Player, or go to the Classic FM Playlist for a list of the pieces played in each programme.
Upcoming Shows:
Sunday 22nd October
This week, David celebrates the ever-popular genre of Light Music.
We'll hear the rousing London Suite by Eric Coates, which was inspired by three different streets in 1930s London, and David will take us Stateside for a selection of recordings of music by Leroy Anderson, featuring Arthur Fielder and the Boston Pops Orchestra.
Sunday 29th October
This week, David takes us on a journey through the history of British music, featuring rarely-heard composers alongside favourites such as Rule Britannia by Thomas Arne, the Fantasia on Greenselves by Ralph Vaughan Williams, and Henry Purcell's Fairest Isle.
Sunday 5th November
Tonight, David champions some of the finest new classical recordings released over the past few weeks.
The highlights include a spectacular performance of Chopin from the 26-year-old Russian pianist Daniil Trifnov. David then turns his attention to an elder statesman of piano music – the American soloist Murray Perahia – with a new 15-CD set, celebrating his extraordinary career. And, in a bid to demonstrate the true diversity of new recordings, David also showcases the new release from Benny Andersson, and his solo piano interpretations of some of ABBA's most famous songs.