From intimate performances of Bach's music for solo cello to a delicate hornpipe by Purcell – and a musical trip to Buenos Aires. These are some of our best live Classic FM sessions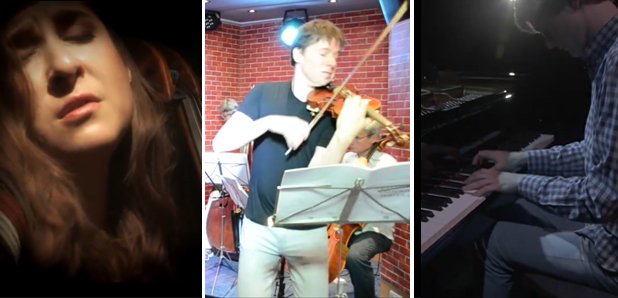 On our Facebook page we like to take you to all the places great music is made. And we'd love you to join us as we visit studios, music college practice rooms and, of course, the great concert halls of the world, bringing you the very best in classical music from the world's finest musicians.
Here's where you can come and 'like us' on Facebook so that you can see all our new videos as we share them (It's easy to do and we're very nice.)
Here are some of our favourite musical moments so far:
Nigel Kennedy jamming with Oxford Philharmonic Orchestra
We caught up with the incomparable violinist and when he played with this brilliant ensemble at a rehearsal in North London. Here's what they sounded like. Mmmmm, jazzy.
Phenomenal Handel from Hakon and Mari Samuelsen
The amazing string duo performed at last year's Bristol Proms – and were one of the highlights of the festival. Here's their spine-tingling take on Handel's Passacaglia:
Jan Lisiecki plays a Rachmaninov Prelude
The brilliant young Canadian pianist plays Rachmaninov's Prelude Op.3 No.2
Alisa Weilerstein plays Bach
An enchanting performance of Bach's Prelude from the Cello Suite No.1
Nicola Benedetti's Beethoven
The brilliant violinist tackles the first movement of Beethoven's masterpiece for violin and piano, the 'Kreutzer' Sonata
Joshua Bell in rehearsal
Joshua Bell let us sit-in on a rehearsal with members of the Academy of St Martin in the Fields (our Artists in Residence) and they treated us to a run-through of Spring from Piazzolla's The Four Seasons.
Purcell on the harpsichord
We popped in to Trevor Pinnock's house to film a performance of this effervescent hornpipe by Purcell.
A cappella beauty in the Sam Wanamaker Playhouse at Shakespeare's Globe
Early music specialists Alamire perform Jean Mouton's heart-stoppingly beautiful 'Total pulchra es' in the candlelit interior of the Sam Wanamaker Playhouse at Shakespeare's Globe.


If you're viewing this on our app or if you'd like to see more Classic FM sessions, head to our Facebook page.