Live Music Month on Classic FM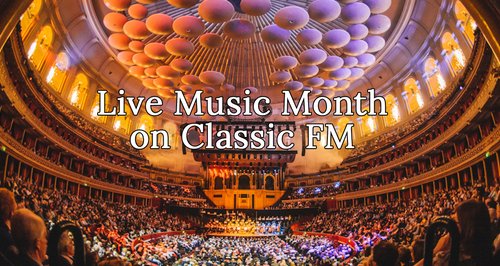 Live Music Month on Classic FM begins on Saturday 1st April. Find out about all the exciting live music happening on air here.
If you can't wait until our next Live Music Month Live Session, check out our collection of the very best Classic FM Live Sessions here.
John presents all the classical hits, including some brilliant live recordings this Live Music Month on Classic FM. From 9am it's The Classic FM Hall of Fame Hour – favourite pieces voted into the brand-new Classic FM Top 300 – followed by the Classic FM Album of the Week at 10:15am.
Friday 28th April, 8pm - Full Works Concert: Live with the Royal Liverpool Philharmonic Orchestra
At the beginning of April, we launched Classic FM's Live Music Month with an exclusive concert from the Royal Liverpool Philharmonic Orchestra. Tonight, Catherine Bott looks once again to Classic FM's Orchestra in the North West to finish a month of extraordinary performances in style.
There'll be passion, energy, and drive in Tamsin Waley-Cohen's performance of Mendelssohn's Violin Concerto, coupled with the incomparable beauty that the Russian pianist Daniel Trifonov brings to Rachmaninov's Piano Concerto No.4. Conductor and rising star Patrycja Pieczara closes the concert – and Live Music Month on Classic FM – with Dvorak's stormy homage to the old world, his Symphony No.7.
Saturday 29th April & Sunday 30th April, 10am-1pm - Bill Turnbull
To round off Live Music Month, Bill will be playing a whole hour of live classical music during his shows this weekend. Tune in to Classic FM between 10am and 1pm to hear some brilliant recordings from some of classical music's finest artists.
To round off Live Music Month on Classic FM, Catherine Bott asks: "What are the most infamous concerts from classical music history?"
She promises a riotous evening – literally – with Stravinsky's The Rite of Spring, and the story of a very unstable Glazunov on the podium, as he tried his hardest to conduct Rachmaninov's Symphony No.1, blind drunk.
There are surprising success stories, however, such as the night a little-known chap called Leonard Bernstein stood in for conductor Bruno Walter, and a star was born.