Former cricket captain says coach David Lloyd inspired England to victory by making the team watch videos of themselves in action - soundtracked by rousing classical music.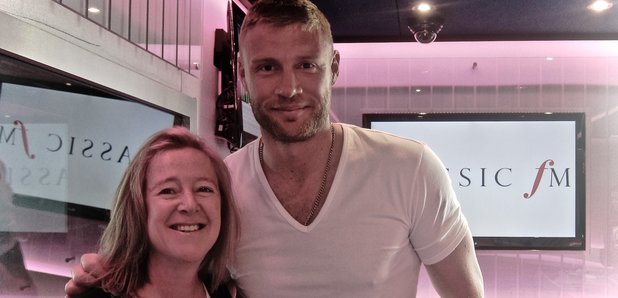 Cricketer Andrew 'Freddie' Flintoff has revealed the secret of how England's former coach David Lloyd led his national team to Test series victories – by showing them footage of their earlier successes, set to classical music.
"He used to get these feel good videos of the players put to really big classical music – building up, building up," Flintoff tells Anne-Marie Minhall in this week's edition of Classic FM's Culture Club (Sunday 12 July, 3pm)
That, along with the team walking out to Hubert Parry 's Jerusalem at the beginning of matches, also gave the former England captain something of a taste for classical music.
"I listen to it," he tells Anne-Marie, but it is his nine-year old son Corey who's the real classical buff in the family.
"He's the sensible one out of all of us and he listens to a bit of classical music," the cricketer says. "Sometimes we'll be in the car and he says 'Can you put Classic FM on?' And we'll put it on for a little bit and then my daughter gets her way and we've got to listen to some other rubbish, like Taylor Swift."
Play
Flintoff on classical music
00:58
The 'Man of the Series' of the victorious Ashes team ten years ago, Flintoff is about to make his Edinburgh Fringe Festival debut with his show, 2nd Innings , in which he shares his memories of that historic summer, as well as some behind the crease insights into the game. He is joined on stage by comedy writer and producer, Clyde Holcroft, with whom he also regularly podcasts.
"We talk a little about cricket, or things that are loosely cricket," Flintoff says, "more my exploits off the field, what are the things I got wrong, even to the point of trying to find a girlfriend as a cricketer which is not always the easiest thing to do. We just enjoy doing it and hopefully the audiences just have a laugh with us – something I never thought I'd be doing."
Play
Flintoff on his stage show
02:35
In Sunday's interview, Flintoff also opens up about his childhood on a housing estate in Preston where cricket was viewed "as the posh kids' sport".
"It's all I ever wanted to do. I just wanted to play cricket. I'm not really into other sports," he says.
"I honestly don't think as a player I was immensely talented. My technique and everything was pretty basic, but I was quite stubborn. I think that's one of the reasons I got on to the extent I did."
Play
Flintoff on cricket
01:14
And asked by Anne-Marie about England's chances in this summer's Ashes series, Flintoff is very optimistic.

"I look at the side and we've got some of the best ever players who have played for England in that side, so it's all going to be good I think."
-->