John Metcalf, who is one of today's most successful composers, says that modern composers have no 'shared language' with audiences today. He's setting out to change that with his Vale of Glamorgan Festival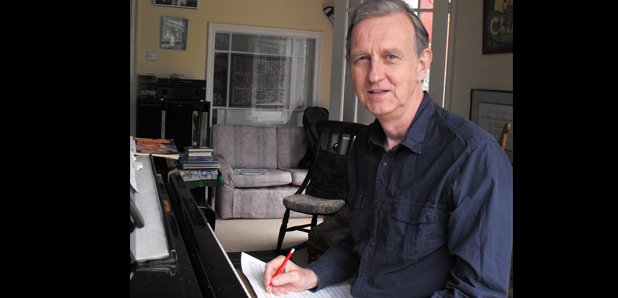 How did you get into composition?
I don't come from a particularly musical family and I didn't study music properly until I was about 18. But I started composing when I was nine so I'm a creative artist who works in music rather than coming from a musical background. The first thing I wrote was a Christmas carol and then some piano pieces.
What piece of advice would you give to someone trying to become a composer?
Somebody said to me the other day "the most important thing is that composers hear their music." But I don't think it is – I think the most important thing is that they enjoy writing, because you can spend two years working on a 30 minutes piece. As a composer you spend an awful lots of time in a room on your own so that's the bit you should probably be enjoying – not to diminish the importance of the audience at all.
Which work are you proudest of?
I'm most proud of the fact that I enjoy listening to my music. Vaughan Williams apparently was very critical of every performance of his music, but I don't feel that way. But I only really started writing the music I wanted to write when I was 45. I particularly like Paradise Haunts , for violin and orchestra and Endless Song as well as a piano trio I wrote in the 1990s.
What are the biggest challenges of being a composer?
I made a decision in the late 1980s to come back to Wales and build an eco-house, essentially, to live as quietly as possible and spend a lot of time composing. And I'm really happy with that choice, so it would be churlish to complain.
The Vale of Glamorgan Festival, which you founded in the late 1960s, focuses on contemporary music. How do you decide on the music to include each year?
I try and programme works that I really believe in because I think we need to bring back the casual listener to new music. And that can only be done if the person programming the music really believes in it. It's an odd fact that whereas intelligent people feel they should know who's on the shortlist for the Booker prize or the Turner prize, they don't feel that way with new music. There's no doubt in my mind that some of the most talented composers are the ones who wrote in a modernist idiom, but it's also true that the modernist idiom is very difficult for many listeners. We need to build bridges so there's a shared language between composers and audiences. There is a huge amount of attractive and varied contemporary music out there, it is only a matter of time before the audience reconnects with the onward flow of musical history.
What are the highlights of this year's festival?
Petris Vasks once said: "Choral music is the means through which the soul of our nation speaks" – and that could have been said by a Welsh composer, not a Latvian one. And the opening concert is a programme of his music performed by the amazing Latvian Radio Choir.
This year we also have a concert in which we've programmed silence in between predominantly meditative pieces. Obviously silence always frames music, we're just taking it a bit further.
There is a lot of really really attractive music and I think if you're a little bit afraid of contemporary music the Vale of Glamorgan festival is quite a good place to start because you're quite likely to find something there to entice you in.
The Vale of Glamorgan Festival takes place this year 10th-20th May