Jocelyn Pook has penned scores for TV, the big screen, concert hall and stage - but her recent works have turned to a much more personal subject: mental health. She stopped by Classic FM to share the background, meaning and importance of these new works.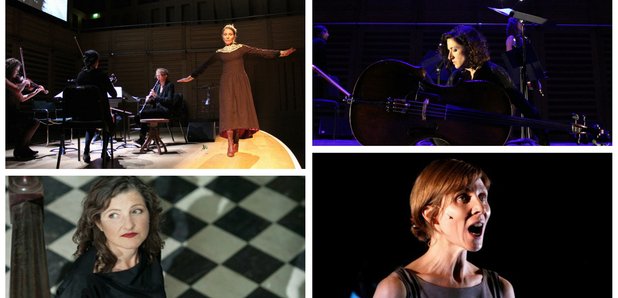 There are some deep, thoughtful themes in your 2012 song-cycle Hearing Voices and your 2014 piece Anxiety Fanfare and Variations - what made you want to explore this in music and theatre?
My reasons for writing about mental health are deeply personal. There have been three generations of mental illness in my family, which has greatly affected my life. My great aunt, Phyllis Williams, suffered a mental breakdown, and spent the last 25 years of her life in an asylum; my mother, Mary Pook suffered a breakdown as a young woman and was subjected to the now-abandoned deep insulin shock therapy, and my sister tragically died as a result of her illness.
How did you reflect this in your work?
The starting point for my 2012 song-cycle Hearing Voices was an extremely moving set of diaries that my great aunt Phyllis had written, charting the gradual decline of her mental health and her time in the asylum. Her writing is often very poetic, but also full of intelligence, as she strives to make sense of the voices she hears – her words were the inspiration for much of the libretto to this work.
Do you hope your works about this subject matter will help others either directly affected, or with loved ones affected by mental health problems?
With Hearing Voices , I wanted to reflect on the changing attitudes to mental health; the stigma and, frankly, embarrassment with which it was once treated has thankfully lessened now but there is still a lot of mystery and ignorance around the subject.
Mental health has always had a troubled relationship with creativity, too; genius and madness are, as we've all heard, supposed to be two sides of the same coin. As our attitudes have changed, though, and people have spoken more frankly and openly about mental health, it's been fascinating for me, with my family history, to see how other creative personalities relate to mental health.
Hearing Voices also includes testimony from two artists, Julie McNamara and Bobby Baker, who both take inspiration from their personal experience in their own work. Their recorded voices and utterances are at times part of the musical score.
Your next work on this theme was Anxiety Fanfare and Variations – how did that come about?
It was a great privilege for me that the Mental Health Foundation asked me, in the wake of Hearing Voices , to compose a new piece about anxiety, Anxiety Fanfare and Variations , for the inaugural Anxiety Arts Festival at the Wigmore Hall in 2014. It's astonishing to think that what might have just been called 'hysteria' 100 years ago now has a whole festival where these common problems are discussed openly!
This year, we took it to the Tête à Tête opera festival, with Melanie Pappenheim. Next, I'm really looking forward to performing the piece in Nottingham on 30 September, with the Nottingham People's Choir.
And can you tell us about the choir performing it?
The choir was founded two years ago by the Nottingham Institute of Mental Health, and it's fantastic for me to, even unintentionally, raise awareness and get people talking about all facets of mental health. It was so important to me to show that these problems are common, and that, as some of the texts show, there can be humour alongside pathos when we're talking about this subject.
One choir member said, "I've clocked up 40 years with this diagnosis – I never dreamt we would be singing about it in London!"
Anxiety Fanfare and Variations will be performed in Nottingham on 30 September, with the Nottingham People's Choir. You can find out more, and get your tickets here.