Shine – Putting Music Education in the spotlight
19 April 2017, 14:12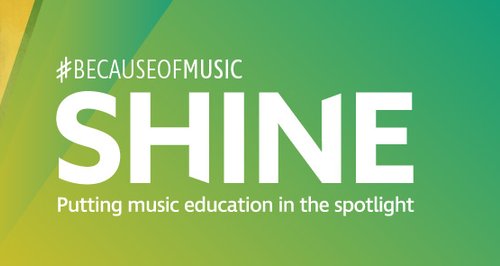 Shine is ABRSM's new celebratory event showcasing the varied and dynamic work underpinning music education across the world.
ABRSM are delighted to announce a brand new event called Shine which celebrates and showcases the varied and dynamic work that supports music education across the world.
With an overarching theme of leadership in education, it is an opportunity for you to enjoy live performances, inspirational speakers from 11.00-13.00 and a tailored afternoon of practical workshops from 14.00-16.00. It's also the event at which Classic FM's Music Teachers of the Year are presented with their coveted awards.
Shine will be held on the 7th July 2017 from 11am at the Barbican centre, a free one-day event that brings together partners, sounds, voices, thoughts and actions from across the global music landscape:
Be inspired in the morning
- Hear performances from some of the world's leading young musicians
- Learn about how music has influenced the lives of many
- Celebrate leadership and innovation in music education – featuring Classic FM's Music Teacher of the Year awards
Get practical in the afternoon
- Get involved in a series of workshops delivered by leading music organisations and educators from across the UK
- Take away tips, resources and have fun!
- Come along to 'Shine with the London Symphony Orchestra!' where the LSO will be opening its doors for you to watch an open rehearsal led by Sir Simon Rattle.
- Take part in 'Shine for the future' where we will be launching the Music Commission, a 12/18-month investigation into the factors sustaining and supporting musical progression for all. The Commission will help policy makers by exploring the barriers to continuing musical learning, assessing best practice to help sustain music learning and identifying the best support for those who want to continue learning music but currently aren't able to.
Parents
- Spend a day immersing yourself in music
- Kick start the summer and celebrate all the fantastic things young people do!
- Learn how you can continue to support your children with music learning
- Bring your kids along and enjoy the day together. It's free!
- There is no other event like it
- If you can't make the whole thing, you might be interested in the following afternoon sessions:
Shine with the London Symphony Orchestra! Watch an open rehearsal led by Simon Rattle
Help your child to Shine! Join Music Mark for a session 14.00-15.00
Students
- Be part of the first performance of a brand new piece
- Enjoy making music with a lot of other musicians in 'Take part in Shine - the music!'
- See the London Symphony Orchestra in action! They are opening their doors for you to watch a rehearsal
- You might even get the chance to meet some famous musicians!
Together, let's celebrate the world of music! #BECAUSEOFMUSIC
Shine is hosted by ABRSM and partners: