Is cinema the future of opera?
Our weekday presenter John Suchet shares his thoughts about opera on the big screen - is it an important innovation, or just a passing fad?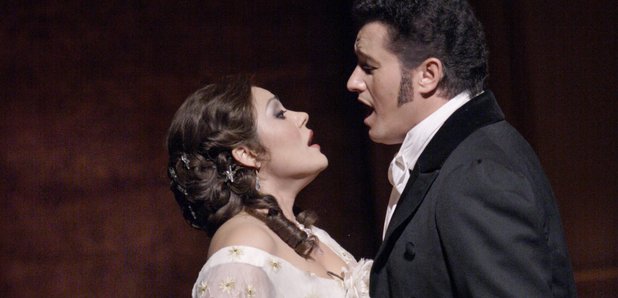 I love opera, but sometimes even the thought of going to see it is nerve-wracking. Are the tickets going to bankrupt me? Do I have to dress up? And how much will I actually see (if I am up in the gods will the action be too far away and if I use those little binoculars, will I be able to read the surtitles)? In short: is it worth the hassle?
But the solution has been around for some time. Opera companies have been streaming their best productions to screens around the world for years now: not old films of productions, but the real thing now, either live or very recently recorded
The great thing about this is that you don't pay opera house prices; you pay the price of a cinema ticket. You can wear what you like. You can eat popcorn if you want to. And you see absolutely everything in vivid close up.
I'm one of the many thousands of people who now see more opera in my local cinema than I do at the theatre. There, I have seen Royal Opera House performances, Glyndebourne productions – even the New York Metropolitan Opera. This brave new world isn't restricted to the dark, air-conditioned auditoria of cinemas. Isn't it brilliant to see the Royal Opera House's Big Screen series, where thousands, of all ages cram into town squares and cricket grounds up and down the country to watch opera?
You get added extras too. In the interval, instead of paying a small fortune for a glass of champagne, you can watch Renée Fleming at the New York Met interviewing the principals backstage.
This is a great thing - making opera more popular and securing audiences for the future – but I've seen a few reports recently suggesting that all are not of the same opinion.
The general manager of the Met, Peter Gelb, says that 75 per cent of the audience for operas in cinema are aged 65 or over. Thirty per cent are over 75. They're seeing it in the cinema, he says, because they simply prefer the comfort and convenience of their local cinema. This suggests that these screenings are not building a new audience you might think.
Meanwhile, research released by English Touring Opera is suggesting that 85 per cent of people seeing an opera in the cinema don't feel any more inclined to go to the opera house afterwards.
They, like me, probably prefer the ease and economy of seeing it on their own doorstep. Have you tried to get tickets when someone like Placido Domingo or Anna Netrebko is singing? And what about taking your family along to a great opera house? Sometimes the cinema is just more convenient.
What do you think? Do you prefer to see opera in the flesh, or at the cinema? And will opera become a victim of its own efforts to embrace technology? Let us know in the comments below.
Loading...