Wedding Music: Ideas, Songs, Downloads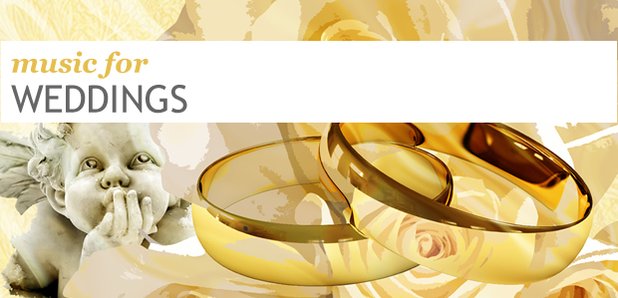 Whether you're arranging your own wedding, or helping a friend arrange theirs, allow our quick guide to help you choose the music for every stage of your big day.
If you are getting married in a church you can listen to some of the most popular wedding entrance music and hymns below.
Wedding ideas: classical music for your big day
Wedding music: a step by step guide
Walking down the aisle, signing the register, the first dance – let Classic FM help you plan the classical music for every stage of your wedding or civil ceremony with our handy guide
Discover all the wedding music you could need with Composed.
Pachelbel's Canon in D - The Piano Guys
Play
Rockelbel's Canon (Pachelbel's Canon in D) - 4 Cellos - The Piano Guys
06:01
Music for Weddings: Listen & Download
Antonio Vivaldi (1678-1741 : Italy)

Conductor: Myung-Whun Chung
Ensemble: National Academy of St.Cecilia Orchestra & Chorus
Record Label: Deutsche Grammophon
Catalog: 4579402

Cesar Franck (1822-1890 : Belgium)

Conductor: Edward Higginbottom
Ensemble: Choir and Musicians of New College, Oxford
Record Label: Decca
Catalog: 275 8053

Charles Gounod (1818-1893 : France)

Conductor: Richard Hickox
Ensemble: Richard Hickox Orchestra
Record Label: Classic FM
Catalog: CFMD 18

Charles Marie Widor (1844-1937 : France)

Soloists: Peter Hurford
Record Label: Classic FM
Catalog: CFM FW 100

Gabriel Faure (1845-1924 : France)

Conductor: Paavo Jarvi
Ensemble: Orchestre de Paris; Choeur de l'Orchestre de Paris
Record Label: Virgin Classics
Catalog: 50999 08847027

Hallelujah Chorus

Conductor: Neville Marriner
Ensemble: Academy of St Martin in the Fields
Record Label: Duo
Catalog: 470 044-2

The Lord is my Shepherd

Howard Goodall (b.1958 : England)

Conductor: Stephen Darlington
Ensemble: London Musici; Choir of Christ Church Cathedral, Oxford
Soloists: Theo Armon-Jones
Record Label: EMI Classics
Catalog: 50999 21504723

Hubert Parry (1848-1918 : England)

Conductor: Paul Daniel
Ensemble: Orchestra of Opera North; Leeds Festival Chorus
Record Label: Naxos
Catalog: SVEN 2002

Lady Radnor's Suite (1)

Hubert Parry (1848-1918 : England)

Conductor: Patrick Hawes
Ensemble: Philharmonia Orchestra
Record Label: Classic FM
Catalog: CFM D16

The Prince of Denmark's March

Jeremiah Clarke (1674-1707 : England)

Conductor: Anthony Newman
Ensemble: English Chamber Orchestra
Soloists: Wynton Marsalis
Record Label: Sony
Catalog: 88697 095792

Romance Cantabile in E minor

Conductor: Myung-Whun Chung
Ensemble: Philharmonia Orchestra
Soloists: Patrick Gallois; Pascal Gallois; Myung-Whun Chung
Record Label: Deutsche Grammophon
Catalog: 4534882

String Quintet in E major Opus 13 No.5 - Minuet

Luigi Boccherini (1743-1805 : Italy)

Conductor: Andrew Watkinson
Ensemble: City of London Sinfonia
Record Label: Classic FM
Catalog: CFMCD 38

Wolfgang Amadeus Mozart (1756-1791 : Austria)

Conductor: Colin Davis
Ensemble: London Symphony Orchestra
Soloists: Kiri te Kanawa
Record Label: Philips Classics
Catalog: 4347252