Classical love songs: music for Valentine's Day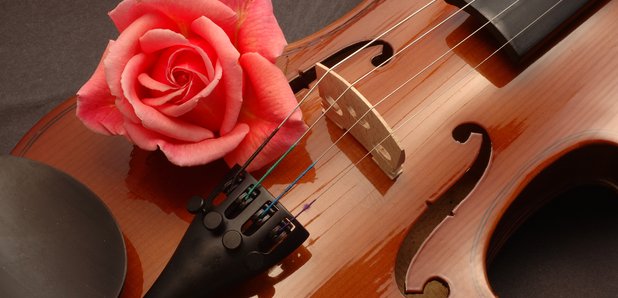 Are you planning an intimate candlelit dinner with your loved one? Set the scene for a perfect date with the best romantic classical songs of all time - and listen and download your favourites.

Classical offers some of the best music for romance ever recorded. From romantic opera arias that capture the intense flush of a first love, to tear-jerking love themes from some of the most romantic stories ever told - there's an endless choice of wonderful romantic music to choose from.
So dim the lights, light the candles and let us help you select the perfect classical Valentine's soundtrack with our handy playlist of the most romantic classical songs of all time to listen and download.
Download: Classic FM's Romantic collection
Classic FM collection: Romantic: 1830 to 1900

30 tracks - £6.99

Ensemble: Philharmonia Orchestra; Boston Pops Orchestra and more
Soloists: Joseph Calleja; Mischa Maisky; Ji Liu and more
The greatest classical valentines
The greatest classical valentines
Great classical composers have almost always been great romantics - and passionate love affairs are often the inspiration for great music making. Here are some of the most enduring.
Top Classical Love Pieces: Listen & Download
Ebben? Ne Andro Lontana

Alfredo Catalani

Aram Khachaturian (1903-1978 : Armenia)

Conductor: Neeme Jarvi
Ensemble: Royal Scottish National Orchestra
Record Label: Chandos
Catalog: CHAN 8927

Conductor: Eivind Aadland
Ensemble: Royal Liverpool Philharmonic Orchestra
Soloists: Tine Thing Helseth
Record Label: EMI Classics
Catalog: 50999 08832726

Claude Debussy (1862-1918 : France)

Conductor: Jun Markl
Ensemble: National Orchestra of Lyon
Record Label: Naxos
Catalog: 8570993

Balcony Scene (Romeo and Juliet)

Craig Armstrong (b. 1959 : Scotland)

Conductor: Paul Bateman
Ensemble: Royal Philharmonic Orchestra
Soloists: Paul Bateman (piano)
Record Label: Classic FM
Catalog: CFMD1 10

Dmitri Shostakovich (1906-1975 : Russia)

Conductor: Barry Wordsworth
Ensemble: Royal Philharmonic Orchestra
Soloists: Janine Jansen
Record Label: Decca
Catalog: 4750112

Serenade for Strings in E minor (3)

Felix Mendelssohn (1809-1847 : Germany)

Conductor: James MacMillan
Ensemble: Academy of St Martin in the Fields
Soloists: Nicola Benedetti
Record Label: Deutsche Grammophon
Catalog: 4763159

Soloists: Milos Karadaglic
Record Label: Deutsche Grammophon
Catalog: 477 9693

Consolation No.3

Franz Liszt (1811-1886 : Hungary)

Soloists: Lang Lang
Record Label: Sony Classical
Catalog: 8869 78914026

Liebestraum No.3

Franz Liszt (1811-1886 : Hungary)

Soloists: Leif Ove Andsnes
Record Label: EMI
Catalog: 3416822

Nocturne in Bb minor Opus 9 No.1

Frederic Chopin (1810-1849 : Poland)

Soloists: Maurizio Pollini
Record Label: Deutsche Grammophon
Catalog: 4775718

Nocturne in E minor Opus 72 No.1

Frederic Chopin (1810-1849 : Poland)

Soloists: Nelson Freire
Record Label: Decca
Catalog: 478 2182

Conductor: Andris Nelsons
Ensemble: Staatskapelle Berlin
Soloists: Daniel Barenboim
Record Label: Deutsche Grammophon
Catalog: 477 9520

Frederick Delius (1862-1934 : England)

Conductor: John Wilson
Ensemble: Royal Liverpool Philharmonic Orchestra
Record Label: Avie
Catalog: AV 2194

Georges Bizet (1838-1875 : France)

Conductor: Michel Plasson
Ensemble: Orchestre National du Capitole de Toulouse
Soloists: Angela Gheorghiu
Record Label: EMI
Catalog: 5574342

Soloists: Ten Thing
Record Label: EMI Classics
Catalog: 50999 08832528

L'Arlesienne Suite No.1 (1)

Georges Bizet (1838-1875 : France)

Conductor: Charles Dutoit
Ensemble: Montreal Symphony Orchestra
Record Label: Classic FM
Catalog: CFM FW 077

Giacomo Puccini (1858-1924 : Italy)

Conductor: Giorgio Morandi
Ensemble: Orchestra del Teatro Regio di Parma
Soloists: Vittorio Grigolo
Record Label: Sony Classical
Catalog: 8869 7723842

Giacomo Puccini (1858-1924 : Italy)

Conductor: Marco Armiliato
Ensemble: Prague Philharmonic Orchestra
Soloists: Jonas Kaufmann
Record Label: Decca
Catalog: 4759966

Giacomo Puccini (1858-1924 : Italy)

Conductor: Nicola Luisotti
Ensemble: Staatskapelle Dresden
Soloists: Rolando Villazon; Anna Netrebko
Record Label: Deutsche Grammophon
Catalog: 477 8854

Giacomo Puccini (1858-1924 : Italy)

Conductor: Charles Mackerras
Ensemble: London Philharmonic Orchestra
Soloists: Renee Fleming
Record Label: Classic FM
Catalog: CFM FW 030

Conductor: Nicholas Dodd
Ensemble: Philharmonia Orchestra
Soloists: Noah Stewart
Record Label: Decca
Catalog: 277 5385

La Bohème Act 1: Sì. Mi Chiamano Mimì

La Rondine: Chi il bel sogno di Doretta (Act I)

Conductor: Sir John Pritchard
Ensemble: London Philharmonic Orchestra
Soloists: Kiri te Kanawa
Record Label: newton classics
Catalog: 8802187

Madama Butterfly: 'Un Bel Di Vedremo'

Aida, Act 1: Celeste Aida

La traviata: Libiamo ne'lieti calici (Brindisi)

Les Contes d'Hoffman Act 4 Barcarolle: Belle Nuit, Ô Nuit d'amour

Four Pieces for Cello & Piano Opus 78 (2)

Soloists: HJ Lim
Record Label: EMI Classics
Catalog: 50999 73000921

Conductor: Mstislav Rostropovich
Ensemble: London Symphony Orchestra
Soloists: Maxim Vengerov
Record Label: EMI
Catalog: 3364032

Love Theme from Romeo & Juliet

Nino Rota

Romeo & Juliet: Ai giocchi addio

Nino Rota

Conductor: Christoph Eschenbach
Ensemble: Philadelphia Orchestra
Record Label: Ondine
Catalog: ODE 1150-2D

Sleeping Beauty - 'Rose' Adagio

Peter Ilich Tchaikovsky (1840-1893 : Russia)

Conductor: Mark Ermler
Ensemble: Orchestra of the Royal Opera House, Covent Garden
Record Label: Sony BMG
Catalog: 82876 677142

Peter Ilich Tchaikovsky (1840-1893 : Russia)

Conductor: Vasily Petrenko
Ensemble: Royal Liverpool Philharmonic Orchestra
Record Label: Avie
Catalog: AV 2139

Pietro Mascagni (1863-1945 : Italy)

Conductor: Andre Rieu
Ensemble: Andre Rieu Orchestra
Record Label: Polydor
Catalog: 589 3062

Kinderszenen Opus 15 (7)

Soloists: Radu Lupu
Record Label: Classic FM
Catalog: 28947649151

Romeo and Juliet Opus 64 Act I: Love Dance

Pelagia's Song from Captain Corelli's Mandolin

Stephen Warbeck

Henry V Suite (4)

William Walton (1902-1983 : England)

Ensemble: Philharmonia Orchestra
Record Label: Quartz
Catalog: QTZ 2041

Wolfgang Amadeus Mozart (1756-1791 : Austria)

Conductor: Charles Mackerras
Ensemble: Orchestra of the Age on Enlightenment
Soloists: Janice Watson; Diana Montague; Thomas Allen
Record Label: Chandos
Catalog: CHAN 31523

Le Nozze Di Figaro K. 492: "Porgi, Amor"

Wolfgang Amadeus Mozart (1756-1791 : Austria)

Ensemble: Cleveland Orchestra
Soloists: Mitsuko Uchida
Record Label: Decca
Catalog: 478 2596