Christening Music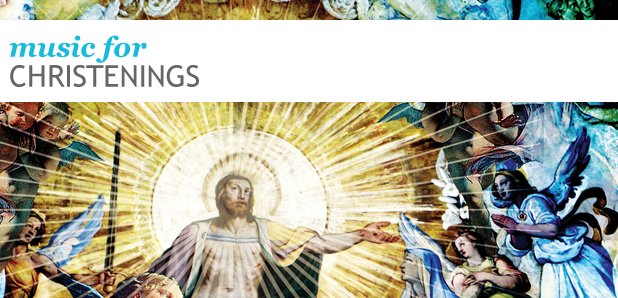 From the moment of arrival, music is an important part of all lives. Here are a few suggestions for the Christening ceremony.
From glorious, triumphant choral music, to a little light-hearted dance music, browse the playlist below to choose a programme of music that's perfect for the Christening of your child.
Prince George's Christening in pictures
Prince George's christening: music and pictures
What classical music did the heir to the throne hear at his christening? A full list of hymns and anthems heard at the Chapel Royal at 3pm on 23 October 2013
Christening music: Downloads - £6.99
50 calming pieces of music to lull your baby to sleep, peacefully.
Top Christening Pieces: Listen & Download
George Frideric Handel (1685-1759 : Germany)

Conductor: John Eliot Gardiner
Ensemble: English Baroque Soloists
Record Label: Classic FM
Catalog: CFM FW 020

Champagne Polka Opus 211

Johann Strauss (II) (1825-1899 : Austria)

Conductor: Willi Boskovsky
Ensemble: Vienna Philharmonic Orchestra
Record Label: Classic FM
Catalog: CFM FW 039

Joseph Haydn (1732-1809 : Austria)

Conductor: Nikolaus Harnoncourt
Ensemble: Concentus Musicus Vienna;Arnold Schoenberg Choir
Record Label: Deutsche Harmonia Mundi
Catalog: 82876 583482
Chopin: Berceuse (lullaby)