Discover where the design world shops for unusual antiques and interior accessories, 20th century treasures and art. A special foyer display looks at Scandinavian style.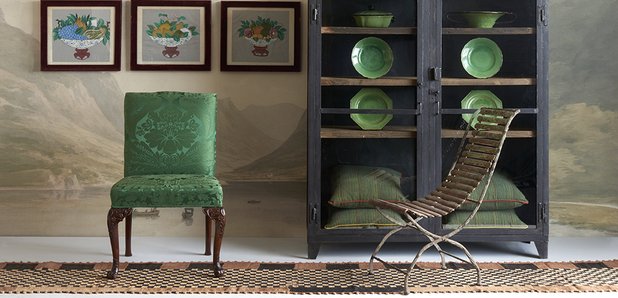 Scandi Days and Nordic Nights: design from Sweden, Denmark, Norway and Finland to grace foyer of largest-ever Decorative Fair in Battersea from 27 September to 2 October 2016.
With 159 dealers taking part, this autumn sees the largest-ever Decorative Antiques & Textiles Fair, to be held in Battersea Park, London. For the first time there will be a dozen stands on the recently-introduced Mezzanine level.
There are 11 new exhibitors:
Rupert Cavendish Antiques (London) with an exciting collection of Biedermeier and Art Deco furniture and carpets
Julian Simon Fine Art (St. James's, London) with English and Continental paintings from the 18th to mid-20th centuries particularly large scale works and flower paintings
Fine & Vintage (Portobello, London) specialists in vintage leather, luggage and trunks
Just Japanese (Chichester, UK) with a fine selection of antique and contemporary Japanese pieces, including bronzes, pottery, woodblock prints, silver, ivory okimonos, satsuma, paintings and silks
Joost van den Bergh Ltd (London) specialist in Indian and South East Asian art particularly sculpture and works of art
BAFRA British Antique Furniture Restorers Association
Verde Gabán CB (Madrid) with European antiques
Richard Cave (London) formerly of Malletts, with fine furniture and works of art
Alexia Amato Antiques (London) specialising in fine glass and objets vertu
Toad (London) with a collection of unmistakable antiques and dramatic decorative arts
A collective from Alfie's Antiques Market of Church Street, Marylebone, London.
Scandi Days and Nordic Nights
The foyer display will showcase classic 18th and 19th century styles with chic 20th century design, from Sweden, Denmark, Norway and Finland. All items are drawn from exhibitors at the Fair and are for sale. Two room-sets capture the moods of dreamy, light-infused Midsummer days, and indigo Winter nights glowing with the vivid colours of the aurora borealis.
Learn how classical Gustavian and traditional Norse folk furniture can blend elegantly with the sleek lines of mid-century Scandinavian design to create a thoroughly modern look.
Exhibitors from across the UK as well as France, Spain and The Netherlands participate at the Decorative Fair. Furniture, design and art for sale originates mainly from Great Britain and Continental Europe, especially France, Italy and Scandinavia. Furniture by Brazilian and American post-war designers is gaining in recognition and popularity with decorators, while art, antiques and works of art can be found from Russia, the Middle East and Asia, and tribal pieces from far-flung corners of the globe.
The greatest charm of The Decorative Fair is the prospect of discovering the unexpected and the unusual, alongside the chic and classic.
How to get to the fair
Easy to reach from Chelsea, Sloane Square and Knightsbridge, a courtesy shuttle service runs to the Fair from outside the Sloane Square Hotel; delicious food is served all day at Megan's Kitchen & Champagne Bar, up on the mezzanine with delightful views across Battersea Park; on- site packing and shipping facilities make life easy for international and UK buyers, and well-behaved dogs (on leads) are welcomed, contributing to the lively and relaxed atmosphere loved by exhibitors and visitors alike.
Admission £10 on the door . Find out more at www.decorativefair.com