Performers at tonight's Classic FM Live with Yorkshire Gold celebrated the tea theme by playing a Tchaikovsky favourite and imagining their fantasy tea party...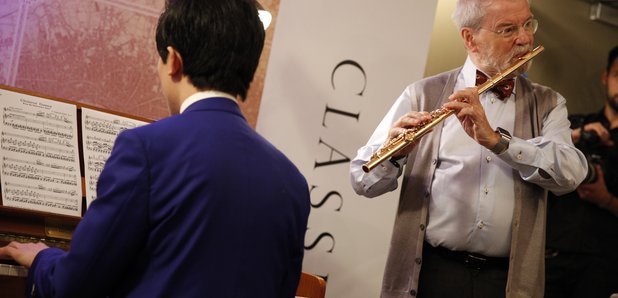 One of the highlights of tonight's Classic FM Live with Yorkshire Gold actually happened backstage at the Royal Albert Hall - flute legend Sir James Galway and rising piano star Ji Liu performing a duet. And the piece they chose? A famous segment of Tchaikovsky's Nutcracker when in the Land of Sweets, ruled by the Sugar Plum Fairy, tea from China dance for the people's amusement. It's called the tea dance. Enjoy:
Play
Exclusive: Tchaikovsky's Tea Dance
Sir James Galway, Ji Liu and the Nutcracker
01:21
We asked each of Classic FM Live's performers - Sir James and Lady Galway, Ji Liu, Vasily Petrenko and Nigel Hess - the question: who would you invite to your fantasy tea party?
Who chose Jesus and who chose Adele? Find out here:
Play
Your fantasy tea party
Who would the stars of Classic FM Live invite to tea?
02:27