The wonderful, lyrical opening to the composer's concerto K191, played after inhaling helium. It sounds incredible...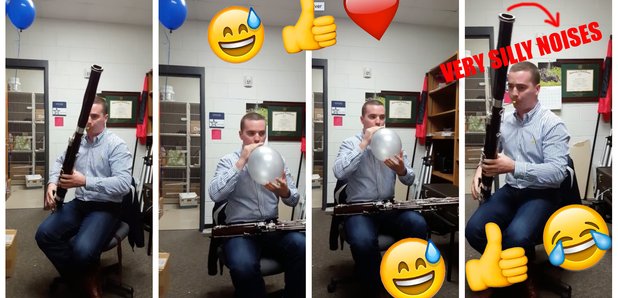 Over the last few weeks, woodwind players have been experimenting with helium and Mozart, with interesting results.
Following helium-fuelled performances on clarinet, oboe and flute, bassoonist Andrew Wojo has stepped up to the mark.
Reminder: helium is lighter than air, which means sound waves move faster through your larynx, or, indeed, your woodwind instrument. Doctors do not recommend inhaling helium. In sufficient quantities it can have adverse affects on health and has on occasion caused death.
The result for the bassoon is spectacular:
Play
Mozart's Bassoon Concerto... on helium
This is what happens when you inhale helium before playing a Mozart Bassoon concerto.
00:46