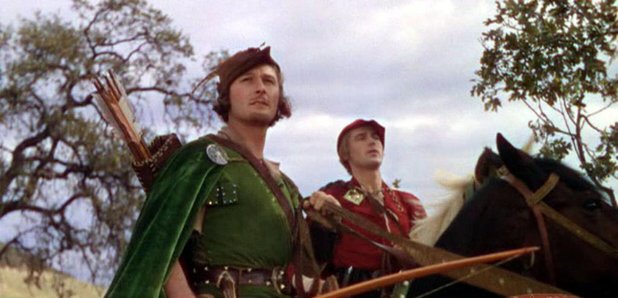 Released : 1938
Director : Michael Curtiz, William Keighley
Cast : Errol Flynn, Olivia de Havilland, Basil Rathbone
The film : Errol Flynn swashed his buckle as the Saxon outlaw fighting back as the leader of a rebel army against Prince John and the Norman lords oppressing the poor.
The score : Korngold 's 1938 Academy Award for his score to The Adventures of Robin Hood marked the first time an Oscar was awarded to the composer rather than the head of the studio music department as had occurred, for example, with Korngold's award-winning score to Anthony Adverse in 1936. Korngold stood for a new music style in Hollywood, in which his music partly intervened in the story of the film by expressing atmosphere, while simultaneously utilizing the Wagnerian concept of leitmotifs - themes that depicted individual characters or settings.