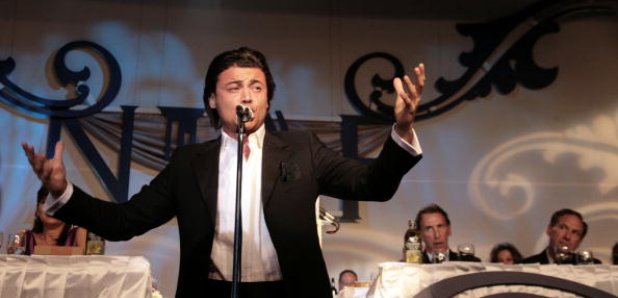 As Pavarotti's farewell tour entered its final stages it is perhaps reassuring to know that his successor stands ready and waiting and, here's the amazing thing, goes by the same name. Well, almost. He's known as Il Pavarottino, at least by the Italian press, who coined the moniker when, as a young lad, he sang in Tosca with Pavarotti. After the performance, Pavarotti raved about the boy's singing to the assembled journalists and so the nickname was born.
A heart-warming story but Vittorio Grigolo - this tenor's real name - is making his way in the opera world on very much his own terms. His debut album is a selection of classical crossover tracks called In The Hands Of Love, but his background is top-drawer classical. How did he get here?
Vittorio cut his musical teeth in style at Rome's Sistine Chapel where he studied singing, piano, violin, trumpet and guitar.
"The teachers there gave me the passion for music," Vittorio says when I finally catch him midway through a hectic European tour. They also gave him plenty of performance experience. He was a soloist in the Chapel Choir – "the little bambino choir," as Vittorio describes it.
By 18 Vittorio was singing with the Vienna Opera Company and at 23 was the youngest Italian tenor to sing at La Scala, Milan. He began to make a name on the opera circuit –and then something happened. In the middle of a run of West Side Story at La Scala – he was singing the part of Riff – Vittorio realised he fancied broadening his reach...
The result is In The Hands Of Love, a selection of original songs and pop covers delivered in Vittorio's smooth but richly expressive voice. Pop group Keane's recent huge hit Bedshaped sits alongside Stevie Wonder's All In Love Is Fair (both sung in Italian, of course). Elsewhere, he duets with Welsh mezzo-soprano Katherine Jenkins on You Are My Miracle.
"I have tried to bring the qualities of my opera heroes to this disc," Vittorio says. "From Franco Corelli his vibrato, Mario del Monaco his strength, Domingo his passion, Gigli his delicacy."
And from Pavarotti? "From him, the ease he has in his voice."
Opera remains close to Vittorio's heart, so close that he has told his record label he must be allowed to perform at least three operas a year.
"You cannot neglect your technique," he says. "I want to translate my classical values into pop music and I can only do this by continuing to sing opera."
Il Pavarottino has come of age.