Orchestras Live
Orchestras Live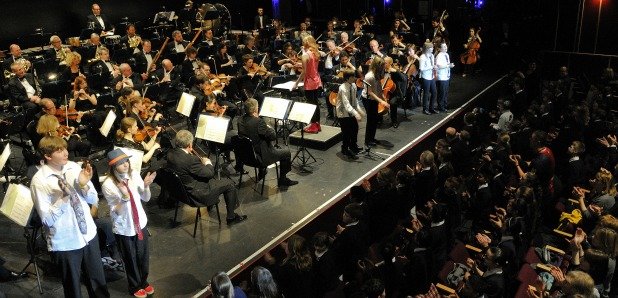 Since January 2011, Classic FM has been working in partnership with Orchestras Live, a national music charity that brings orchestral music to thousands of people in under-served areas across England. Its mission is to inspire, motivate and empower the widest range of people through excellent live orchestral music.
In 2013/14, Orchestras Live worked with 25 professional orchestras through 60 ongoing partnerships to reach 53,808 people through 132 concerts and residencies, as well as 500 workshops in seven English regions.
Orchestras Live is committed to championing new music, and this year almost 40 per cent of the concerts it is co-promoting will contain work by living composers. In addition, the Beyond the Premiere programme enables repeat performances of new works by contemporary composers including Huw Watkins, Sally Beamish and Gwilym Simcock.
Orchestras Live devised and led the groundbreaking First Time Live Youth touring programme, bringing workshops and interactive concerts to young people in 10 areas of low arts engagement across England during 2013 and 2014. It is also the lead partner on the long-running First Time Live Early Years concerts for under-7s with City of London Sinfonia.
Other recent projects include:
• Serenade – a project with Britten Sinfonia in South Norfolk
• Hear and Now – an intergenerational project with Fusion Youth Singing, Tibbs Dementia Foundation's Music 4 Memory and the Philharmonia Orchestra in Bedford
• Hallé Orchestra in Bolsover – a project with young people working with the Hallé, Creative Forum and Derbyshire County Council in the village of Clowne
Orchestras Live is the only organisation of its kind working in the orchestral sector.
To find out more about Orchestras Live or the concerts it is supporting or co-promoting, visit www.orchestraslive.org.uk where you can also sign up to its monthly e-bulletin. You can also follow Orchestras Live on Twitter @OrchestrasLive