Bavarian Radio Symphony Orchestra
Biography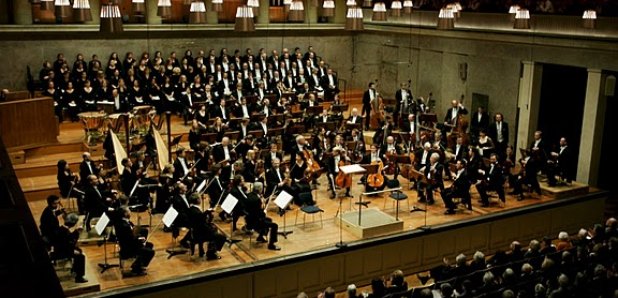 Since it was founded by Eugen Jochum in 1949, the Symphonieorchester des Bayerischen Rundfunks (Bavarian Radio Symphony Orchestra) has developed into an internationally renowned orchestra, its fame constantly expanded and fortified by its intensive touring activities.
Fostering new music has an especially long tradition at the Symphonieorchester des Bayerischen Rundfunks. At the Musica Viva series of concerts in Munich, audiences have witnessed legendary performances of contemporary works with their composers on the podium. These include Igor Stravinsky, Darius Milhaud, Paul Hindemith, Pierre Boulez and Luciano Berio.
Over the past few years, the Symphonieorchester has also pursued new approaches to early music and now collaborates regularly with such experts in historical performance practice as Thomas Hengelbrock, Nikolaus Harnoncourt and Ton Koopman.
A further special feature is the encouragement of up-and-coming young musicians. In conjunction with the ARD International Music Competition, the Bavarian Radio Symphony accompanies young musicians both in the final rounds as well as in the symphonic closing concert featuring the prize winners.
Since 2001 the Academy of the Bavarian Radio Symphony has been doing valuable educational work by preparing young musicians for their later careers and thus building a solid bridge between education and professional activity.
Beyond this, the Orchestra maintains an encouragement programme for young people with many activities designed toward the worthy goal of bringing the younger generation closer together with classical music.
Did you know?
The Bavarian Radio Symphony was also the only German orchestra with which Leonard Bernstein regularly collaborated for many years. In 1989 Bernstein, the Chor and the Bavarian Radio Symphony altered the text of Schiller's "Ode to Joy" from "Freude" ("joy") to "Freiheit" ("freedom") when they performed Beethoven's Symphony No.9 to mark the fall of the Wall between East and West Berlin.
Top Bavarian Radio Symphony Orchestra Pieces
The Sleeping Beauty Waltz

Concerto in A minor for Cello and Orchestra (3)